Introduction
The purpose of the first game is to illustrate how data transmission works, using the transmission of a small picture.
The purpose of the second game is to illustrate how the internet works, sending messages in small packets through routers.
The target age group is 8 to 12 years.
These two games are for a maximum of 30 children, split into several groups.  The two games together occupy the children for an afternoon.  It is highly recommended to have one adult helper per group plus an "animator" or activity leader present.  We worked with a professional clown, who came dressed up as such.
To keep attention going, there should be some prizes to win.
The total budget is small, of the order of perhaps 10€ to 20€ (not counting the reusable code boxes)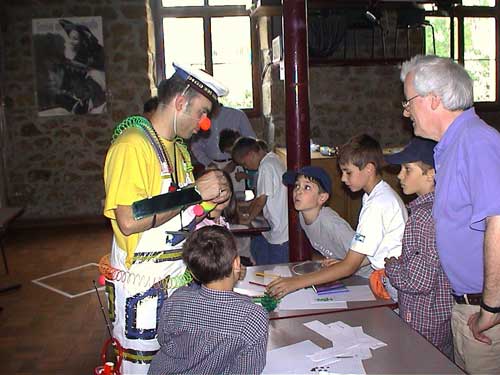 A fairly large room is needed, a classroom is probably too small but a hall or gym room is fine.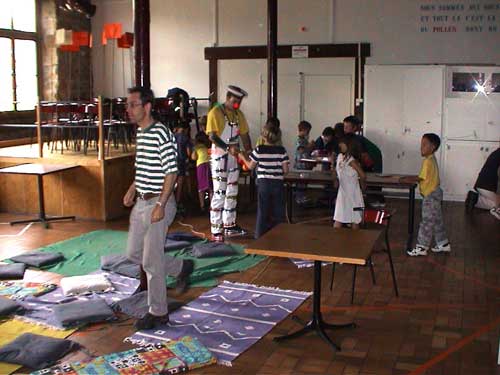 The chairs that will be the routers (see later) in the second game are standing ready on the platform, showing their name tags fixed to bamboo marker sticks.  The tape laying out the network is already stuck on the floor.
The children are divided into groups of minimum 2 and maximum 6 to 10.
Items needed:
a large room
two tables per group plus an extra table to display the tokens (see below)
1 chair per child
long sticks (1.5 to 2m, can be bamboo).
paper, pre-printed in several forms (see below)
one set of colour felt pens per group
adhesive tape, wide (min. 5cm) and preferably of a colour that contrasts with the floor; approx. 50m is needed.
scissors, office-type adhesive tape
sets of tokens, which are (small) objects such as model trucks, pencils, model trees, small hammers, toy animals etc. There should be as many tokens in each set as there are groups.
transmitter-receiver boxes, see below
separating screens if available