Astronomical Observations
What is an Eclipse?
Sometimes the Sun is obscured by the Moon passing in front of it, a phenomenon known as an eclipse.  Eclipses of the Sun are short (less than 7 minutes), occur rarely, and when they do they are visible only on a small part of the planet.
To understand eclipses we need to understand the motions of the Earth and Moon relative to the Sun.
If all were Perfect
The ancient Greeks thought all heavenly phenomena were perfect:  the bodies were perfect spheres, they moved in perfect circles.  It was a good approximation and a laudable attempt at a geometric model of the solar system.
If all were perfect, then we would have a situation like in the image below: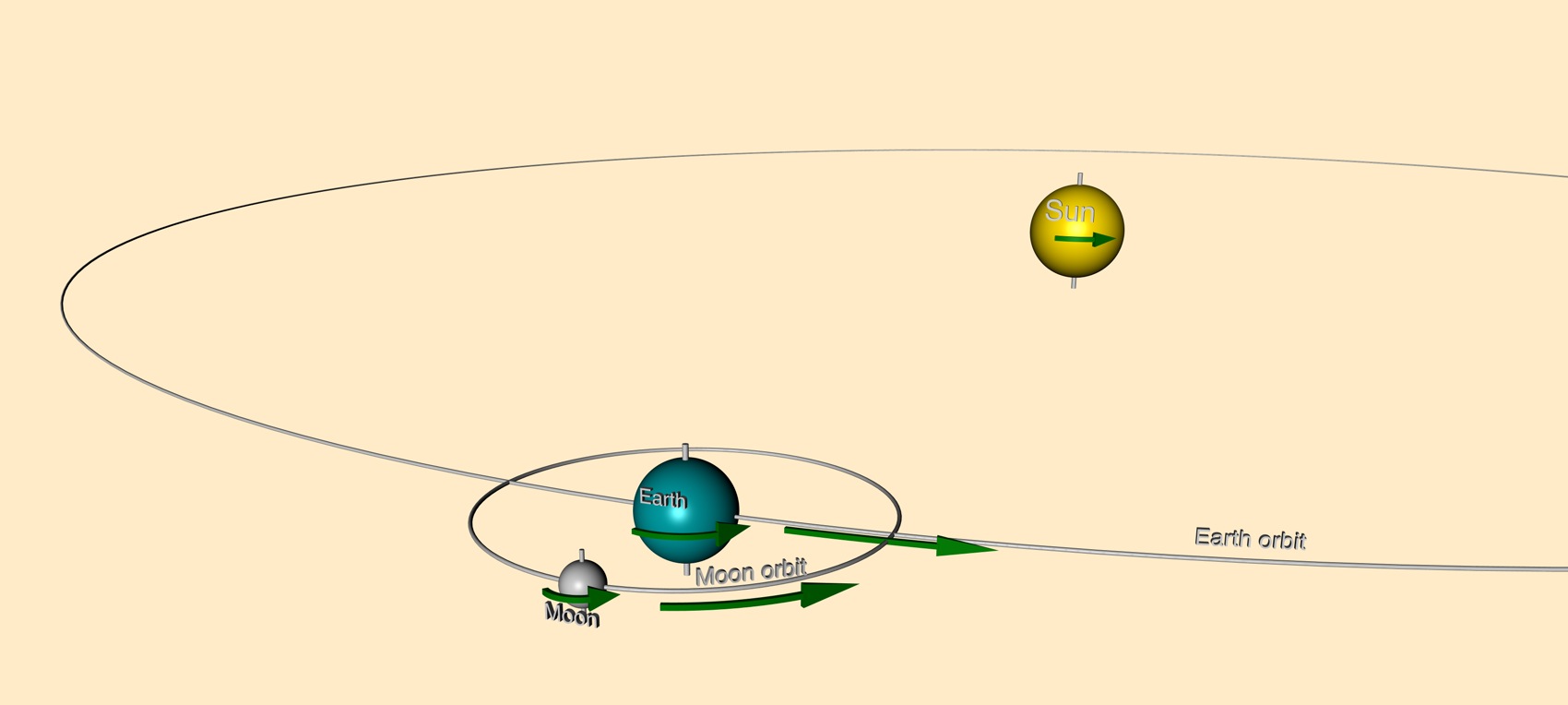 The Sun, Earth and Moon would be a perfect spheres, the orbits of the Earth and the Moon would be perfect circles, all axes would be perpendicular to the plane of the Earth's orbit, and the Moon's orbit would also be in the plane of the Earth's orbit.
The plane of the Earth's orbit is called the ecliptic.
In addition, all rotation would be in the same sense (green arrows;  as seen from the North).  In reality, all planets and moons do indeed turn in the same sense, with a few very rare exceptions such as the moons of Mars.
Simple Eclipses
The Moon turns around the Earth once a month.
If the Moon and the Earth both moved in the ecliptic, as in the "perfect" case, there would be a solar eclipse and a lunar eclipse each month:  the Moon would pass exactly between the Earth and the Sun and it would also pass directly behind the Earth over the course of each turn around the Earth.  Twice a month the Moon would be exactly on the red line that goes from the centre of the Sun through the centre of the Earth:
There would be an eclipse of the Sun at each New Moon (position N) and a lunar eclipse at each Full Moon (position F):  at N the shadow of the Moon would touch some point on the Earth's equator and at position F the Moon would entirely be in the shadow of the Earth.
Because the shadow of the Moon on the Earth is very small, solar eclipses would only be visible at the equator and nowhere else.