Switches:  Old Type.
The old type switch is a fairly complex item with nine parts:
a top, combining two curved rails,
a bottom cover, glued to the top to protect and hide the parts inside,
a point, from red plastic,
a holding plate, not visible,
a spring to load the point,
a rod to hold the spring,
a rotating lever, from yellow plastic,
a spring to hold the rotating lever in one of its two positions
a cap for the lever, to rotate it more easily and indicate its state.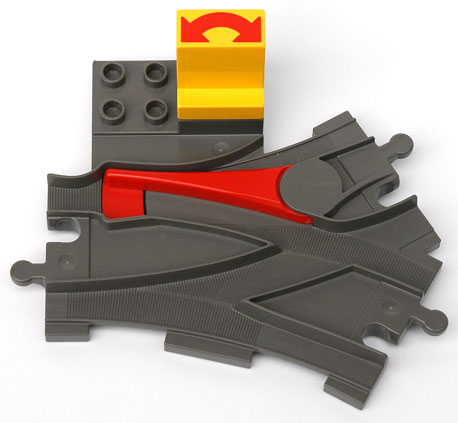 I opened the switch by drilling out the knobs on the bottom cover plate with which that is glued into the top.  First I tried to pry the bottom off, in the hope that it might "click" off, but it is firmly glued.  After getting nowhere but damaging the cover, I finally drilled away the glued buttons with a 5mm bit (see last image).